Lilit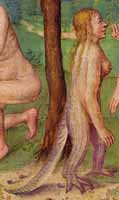 From a 15th century
manuscript illumination.
The breeder of our new little female, Sari Kulha, let us decide her name ourselves, it only had to start with the letter L. We found it difficult, and we had no female L-names in our book of names.

Nevertheless, we found some names, but Sari had to make the final choice, because the name had to be good in Finland as well.

She chose Lilit. In Jewish mythology Lilit (English: Lilith) is the name of a demon, and in Jewish folklore it is the name of the first wife of Adam. In Renaissance pictures of the temptation the snake is often reproduced as a woman, very possible Lilit herself.
However, you will find it difficult to find a cat less demonic than our Lilit...