Ujiji Chimay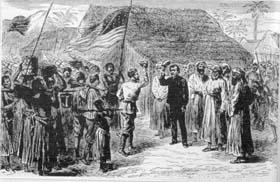 The famous picture showing the famous meeting between Stanley and Livingstone.
When we were told that Ujiji was going to be called Chimay we considered giving both kittens C-names instead of U-names.
But for a short time only, because our female kitten was almost destined to be called Ujiji.

Ujiji is the town in Africa where the famous meeting between Livingstone and Stanley took place. We knew that when the kittens were born, but only some days after the birth we found out that it happened in 1871 exactly November 10th. The very same date as Ujiji Chimay was born!

Chimay is a town in Belgium. Besides it is the name of a famous beer, brewed at a monestery in the town Chimay.
Uzuri
Uzuri was the first name starting with the letter U we wrote into our book of kitten's names. It is Swahili, and it means beautiful boy or just beauty.

At the age of 5 months our Uzuri was not exactly a beauty. But as a matter of facts he took a lot after his grandmother Lilit, and we hoped he would develop fine, just like Lilit did.

Now - February 2005 - Uzuri is 2 years and 3 months of age, he is an adult cat, and he is good looking, though his nose will never be as straight as a Russian nose should be. But he has a wonderful body-type and a very long tail, and his eyes have turned green now.