Christmas 2000 - April 2001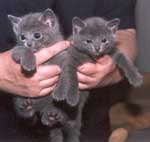 The Salonqa & Sarantoya gallery

These months everything - almost - turned on our kittens. Lilit had her two kittens, both females, on Christmas Eve 2000. Once again Lilit insisted on company while the kittens were very young, but otherwise she obviously was a more experienced mother. Also Ofelia and Djingiz felt more easy about the kittens than they did the first time Lilit had kittens.

The owners of Elvis, the father of the kittens, had made a reservation for one of them. A young lady had made a reservation for the second one, but when she visited the 3 weeks old kittens she realized that they didn't look like British Shorthairs. We yielded to the temptation to let the second kitten from Lilit's last litter stay with us. And these kittens will be the last descendants of Lilit. After two deliveries where she had to have help from the vet we think she has done enough.

The kittens were named Salonqa and Sarantoya; Mongolian names meaning Rainbow and Moonbeam. Sarantoya is the one that stayed with us.

Salonqa and Sarantoya are two very lively little girls - much wilder than Zenit and Zoogin were. Dorthe says they have too many Bitsjka-genes. True enough Bitsjka is quite a few times in their pedigree - but many generations behind! Nevertheless the kittens take after Bitsjka when it comes to the level of activity. At the same time they are very affectionate kittens - especially Salonqa, that is when they have the time, and the socialization has succeded very well once again.

When it comes to the look the kittens were rather different when they were babies. Salonqa had a lovely face and big, expressive eyes. She had a light coat with excellent texture, and she was a little more round than Sarantoya (no faults on Salonqa's appetite!) Sarantoya was slighter and her legs seemed longer. Her coat was darker and not as dense as Salonqa's, but also her coat was very soft. Both kittens have promising green eyes.

The kittens have been completely healthy, they have been to the vet only to be checked and to get their shots. Apart from their tendency to vandalism it has been a litter without problems - but with many joys! And we have made no regrets that we decided not to sell the little wild Sarantoya.