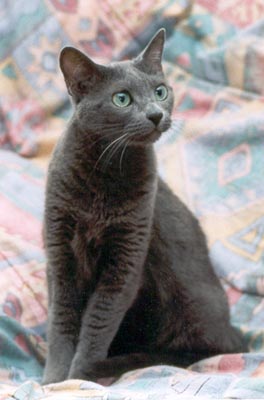 OFELIA
Ofelia was born on June 30th 1987 in our very first litter. Her mother was Bitsjkova af Graenselandet and her father Matrjoschka's Dombanos. See Ofelia's pedigree.

Ofelia was Dorthe's cat. She was reserved already before she was born, and she was the fee for Dorthe's help taking care of the kittens. She got attached to Dorthe very quickly, and ever since Dorthe was her human being no 1. At night she slept in Dorthe's bed, on her own pillow next to Dorthe's.

She should have been an Italian, she loved Italian cooking and preferred it with lots of garlic. She did't get food for humans very often, but if we had pizza or pasta, she always had a bite as well.

Ofelia was mentally a strong cat. She never doubted her own worth, and she possessed a natural dignity and authority. She knew how to control both people and cats only by looking at them, it was not necessary for her to use stronger methods. Accidentially Djingiz tried to tease her, but he didn't succeed very often.

When Ofelia was almost 15 years of age, it was discovered that she was hyperthyroid. She could not tolerate the only medicine available in Denmark, and we didn't want to let her undergo surgery. For a long time she felt fine without any treatments, but in February 2003 she got worse very quickly. We let her pass away on February 19th.
Of course she left a big gap, but we are grateful that we have known this wonderful cat for so many years.