Already before Ofelia's litter was born, Bodil Poulsen had made a reservation for a male kitten. When the kittens were born Bodil soon came to see the kittens and to pick out her little male. So Misja was all the time Bodil's cat, not so much our cat. Bodil came to visit Misja every week, and no doubt Misja and also the other cats soon knew Bodil, and ever since they have felt completely confident with Bodil.

As a little kitten Misja was to some degree a loner. Of course he played with his brothers and sister, but he was also playing alone, and he didn't always sleep together with the others. It was almost as if he knew he was going to be the only cat with Bodil.

When Misja was 14 weeks, he moved to Bodil's place, and in Misja's whole time Bodil and he were inseparable. We wondered if Misja could fill the void after Benjamin, the cat Bodil had had before, but with his strong personality he did. Bodil believes that Misja was the most clever cat in the world, and he certainly was fantastic at teaching Bodil who soon was at his beck and call - almost, because he wasn't allowed to eat as much as he wanted to. Like his brother Djingiz he had a ravenous appetite.

Misja died much to early at the age of only 6 years, to the great sorrow first of all of Bodil, but also of us.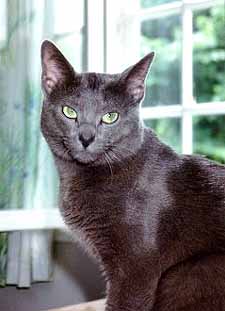 A meditative Misja
in the window