August 27th 2006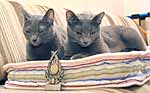 After the show it was time to relax thought Sarantoya (to the left) and Lilit.
Dorthe placed Lilit's little nomination price in front of the cats, but they showed no interest whatsoever!

The cats and we have been on holiday in Varberg in Sweden. This time we had rented a holiday flat where the cats almost immediately felt at home. In fact we were not quite sure that they wanted to go home with us again.

We humans did not spend as much time in the flat as the cats, because naturally we had to explore Varberg and environs. Varberg is a very charming little town and very lively, too - at least in the summertime.
Anyway we didn't know that before we came to the town, and the reason for choosing Varberg as our holiday place this year was of course a cat show held in the weekend.

Both cats were shown both days, Sarantoya mostly to accompany Lilit as she is still not in a good show condition. Her coat is still not fully grown on the inner side of her hind legs, and besides she needs to loose ½ kg of weight. None of the judges made remarks about the first, but both of them noticed that she should loose weight. By the way she has also forgotten to stand quietly at the judge's tables. Fortunately she is not in a high class. All together we could bring 4 certificates and a nomination for Best in Show for Lilit the first day at home, and we were very pleased.

The cats were pleased to get home to the flat again. Especially on Saturday they were absolutely worn out. When they had had a little to eat and drink they fell asleep lying close together, and they slept peacefully most of the evening and night.