June 30th 2007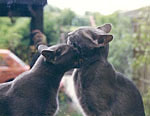 The one year old Ofelia still enjoys being nursed by her mother

Today is a kind of anniversary for us: It is 20 years since our first litter was born.
We both had to go to work, but took turns to be with the mother-to-be, little Bitsjka who was very, very thick. Dorthe was at home in the morning and the first hours of the afternoon, but we think Bitsjka postponed the delivery until Kirsten returned from work shortly after noon. She went to labour immidiately after she had seen Kirsten inside the door. We both were present when the two first kittens were born, then Dorthe had to leave, but the phones were very busy until all five kittens were born.

One of the kittens was Ofelia who stayed with us all her life. We know that she was either the second or the third kitten, and we decided that she must have been no 2, so also Dorthe witnessed her birth.

We have no photos from the event, but we have a photo of mum and daughter together.